TIPS & TOOLS for DISTRICT LEADERS
School-level spending data will likely surface some unexpected (and potentially troubling) patterns within districts, prompting questions about spending inequities across schools as parents, principals, advocates, and media try to understand which schools get what and why. While this new data presents a host of challenges for school districts, it also presents an incredible opportunity to communicate openly and honestly, solicit input, and build trust around district budgeting and spending practices.
Get Your Principals Involved
Parents and teachers trust their principals over district and state leaders on issues related to money, so principals should be prepared to effectively and transparently communicate about their school's financial data.
Districts should include principals in budget decisions and as trusted messengers for communicating spending decisions with teachers, families, and community.
Questions Superintendents, School Boards and Central Office Staff Can Explore
Now's a good time to look at spending by school in your district. Examine how state and local dollars are spent across schools serving your highest-needs students and consider if any district policies or practices are shortchanging any students and schools. Federal dollars should layer on top of state and local spending, driving additional resources to schools serving highest-needs students.
How to Talk About Money
Understanding school finance is one thing. Effectively communicating about it is another skill entirely. Here are a few resources to help district leaders and school board members talk about school-level finances with staff, community, and other district leaders.
When THIS Happens…Here is What You Can Say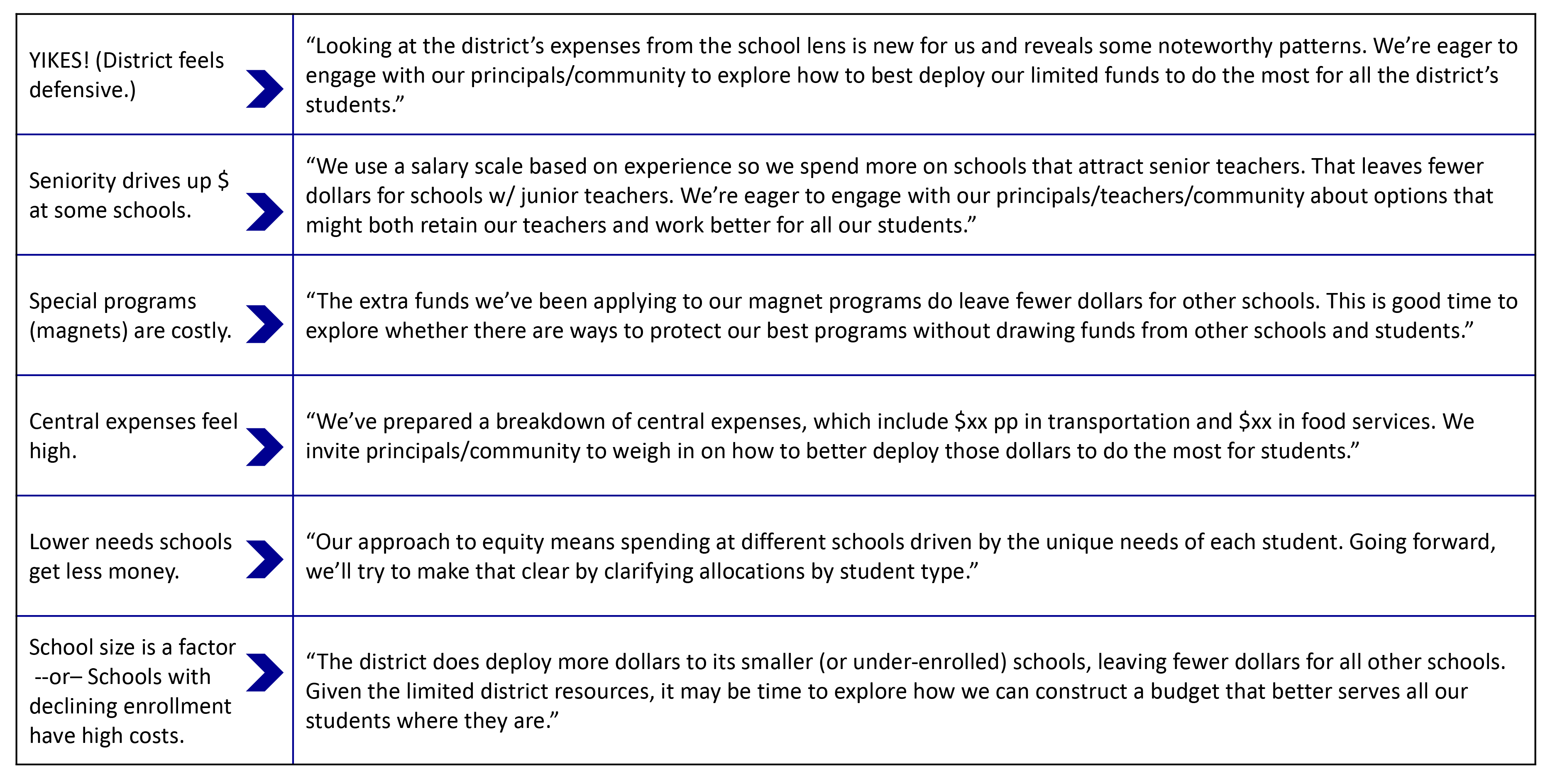 Using School Spending Data to Improve Schools
Typically, schooling has been measured on student outcomes alone. This activity offers a set of exercises designed to help education leaders better understand the relationship between spending and student performance—and position them to use emerging data to explore opportunities for productivity in their day-to-day work improving education.
Have questions? Need research or analyses? Edunomics Lab can provide assistance or recommend expert support and other resources. Contact Deb Britt at Edunomics@georgetown.edu for more information.