Public education will continue to face financial challenges. Through our work, we help education leaders understand the implications of current and alternative ways of distributing dollars and help those leaders use every dollar to maximize benefits for students.
A more productive education system is both more financially sustainable and yields better student outcomes. Emerging financial data will make it easier to link outcomes with spending, surfacing schools are most able to leverage their money to maximize student outcomes. And it will allow all schools (and systems) to benchmark progress toward improved productivity.
Our productivity analyses, shown in the graphic above plotting per-pupil spending and student outcomes by school. These sorts of analyses can help system leaders discover innovative practices, benchmark districts and schools and manage for continuous improvement.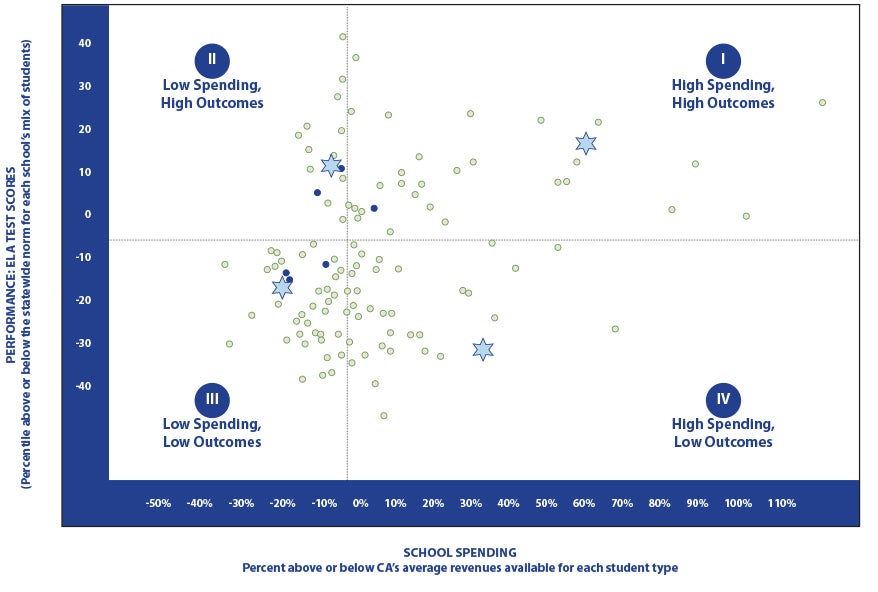 While the revenue side of education finance gets plenty of attention (Is there enough money?), the spending side is equally important and yet gets short shrift. This is partly due to a lack of visibility into how the money is spent. But that is about to change, thanks to a new provision in the Every Student Succeeds Act...
Marguerite Roza November 2017 New data and accountability agendas have heightened attention to performance disparities between students with different identifiable needs—needs that stem from poverty, disability, or limited English proficiency. To help states design effective funding policies to serve high-needs students, this brief by Marguerite Roza helps states ask the right questions, tap their own data, and...
Marguerite Roza In this webinar hosted by AASA, Marguerite Roza provides an overview of the financial transparency requirement in the Every Student Succeeds Act, highlight lessons learned from states working towards meeting the requirement, and provide a district lens for thinking about the opportunities this new data can provide. View the recorded webinar View Presentation...
Want to learn more?
Select your areas of interest and we will get in touch.