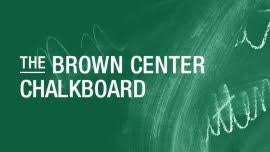 During the pandemic, lost education jobs aren't what they seem
Chad Aldeman
Published March 2, 2021 on Brown Center Chalkboard, Brookings Institution
Throughout 2020, media accounts were filled with stories about private sector job losses, layoffs, and bankruptcies. According to data from the Bureau of Labor Statistics (BLS), private sector companies employed 7 million fewer workers at the end of 2020 than they had at the start of it, a 6% decline.
On a proportional basis, the job losses were actually larger in the public sector, especially in public education. The same BLS data show that employment fell by 8% at public K-12 schools and 11% in public higher education.
When Chad Aldeman dug into the data, he found that education jobs weren't "lost" so much as not yet filled – and that has implications for recovery efforts as Congress contemplates the next round of federal aid.
Contact edunomics@georgetown.edu for an accessible version of any publication or resource.