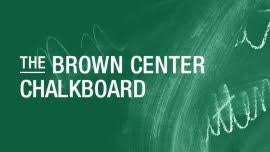 The ESSER fiscal cliff will have serious implications for student equity
Marguerite Roza and Katherine Silberstein
Published September 12, 2023 on Brown Center Chalkboard, Brookings Institution
When the nation's schools closed to in-person learning, there was little warning and no precedent that could accurately predict the effects. Now that the dust has settled, it's clear that higher-needs students suffered the greatest harm, such that they are now even further academically behind their more advantaged peers.
Yet, we have an early warning on our next major disruption in schools, which is only a year out: It's a perfect storm of financial chaos brought on by the abrupt ending of federal pandemic relief funds, falling district enrollments, and slowing state revenues. While this next upheaval doesn't involve sending students to learn from home for months on end, we do know that financial disruptions can take a toll on students. The question now is whether leaders will take action to ensure that our most vulnerable students don't once again feel the brunt of the effects.
Contact edunomics@georgetown.edu for an accessible version of any publication or resource.