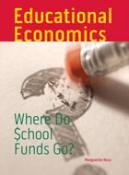 Educational Economics: Where Do School Funds Go?
Marguerite Roza
Published in 2010 by The Urban Institute Press
This book explains how varied funding streams can prevent schools from delivering academic services that mesh with their stated priorities and offers concrete prescriptions for reform.
Contact edunomics@georgetown.edu for an accessible version of any publication or resource.